The United States is a global leader within the pharmaceutical industry and one of the largest markets in the world. With the help of clinical researchers and the U.S. Food and Drug Administration (FDA), medications are tested, manufactured, and disseminated to pharmacies across the country.
The primary objective of the pharmaceutical industry is to manufacture medications and devices that help prevent infections, maintain health, and treat diseases. Read on to learn more about the unique role clinical trials play in the drug development process.
Understanding Clinical Study Approval Phases and Processes
The clinical research process for all new medications is comprehensive, rigorous, and extends through multiple stages. At any given time, thousands of clinical trials are in-progress, yet "only one in every 5,000 compounds that makes it through lead development to the stage of pre-clinical development becomes an approved drug."
The following FDA infographic summarizes the process that an investigational drug undergoes: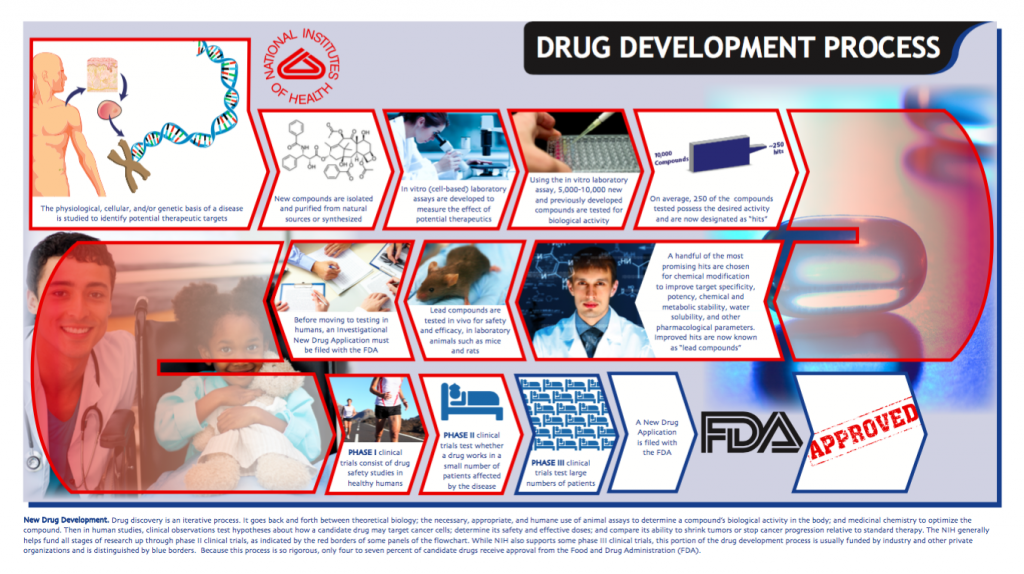 The initial process begins with researchers isolating compounds in the lab. Then, "using the in vitro laboratory, 5,000-10,000 new and previously developed compounds are tested for biological activity," per the FDA.
Next, Investigational New Drug Application paperwork must be filed and eventually reviewed by the FDA. Once the researcher receives an initial approval, lead compounds are tested on animals. Animal testing typically begins with fish, mice, or rabbits to determine if the medication is safe enough to be tested in humans. Certain animals, like mice, are similar enough to humans on a molecular level, for scientists to gather plausible causation.
The FDA reviews all animal testing findings and results before making their final decision. Provided the medication passes this step, FDA-monitored human trials begin to assess whether the drug is effective and safe for humans.
Drug Development Phases
Phase 1: A small group (20-80) of healthy individuals or individuals with special conditions participate in this phase. Safety is a top priority for researchers overseeing this phase, which focuses on small groups of special patient populations, such as those with kidney disease, liver disease, and diabetes for example.
Phase 2: A slightly larger group participates in Phase 2, which addresses the investigational device or medication's effectiveness. Safety is continuously evaluated and side effects are also carefully monitored.
Phase 3: A large group (up to 1,000+) participates in this phase, which allows researchers to develop a further understanding of dosing and side effects of the medication when combined with other drugs.
Once trials are completed, the FDA reviews the application and determines a final ruling at a review meeting. If the drug receives the final approval, it is released to the general public.
Learn More About Clinical Trials
ClinicalTrials.gov, the FDA website and our blog catalog all provide helpful information about clinical studies. Our staff at OCRC is also happy to offer tours at our state-of-the-art clinic to volunteers who meet study criteria.
At OCRC, we explain our methodology to every participant and we pride ourselves on the policies we put into place to keep everyone safe — both our staff, and study volunteers. The Phase I-IV clinical trials that we specialize in test investigational medications being developed by pharmaceutical and biotech companies. All participants receive treatments and medical care related to the trial at no cost. Additionally, participants may be compensated for time and travel. Health insurance is never a requirement.
If you are interested in volunteering, please tell us a little more about yourself in the Contact section of the home page and we will respond to you to determine your eligibility for current and future studies.